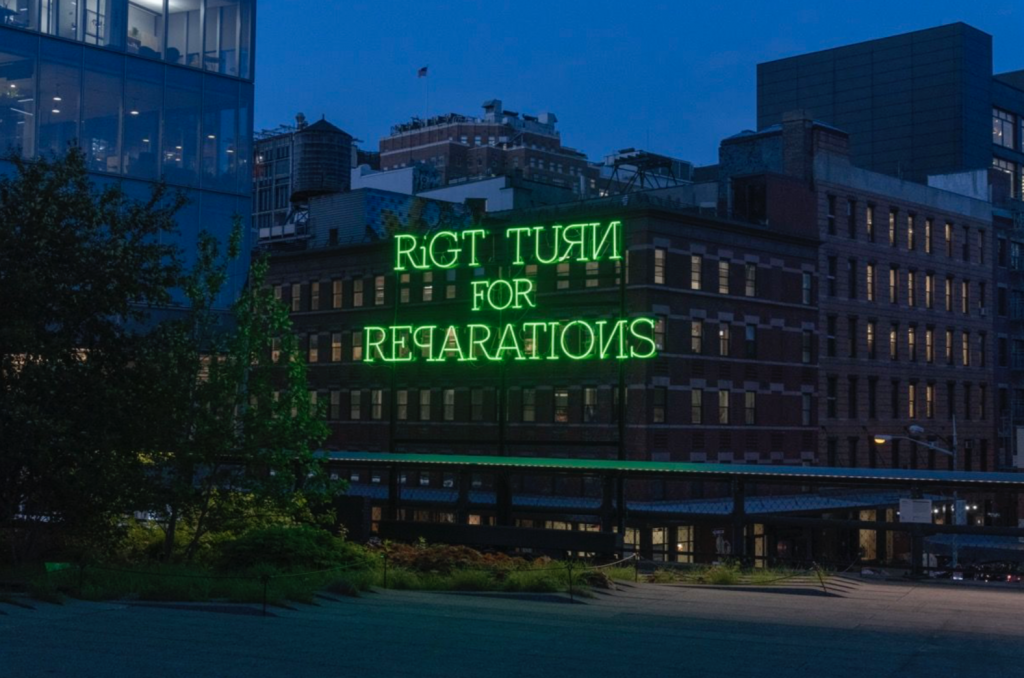 The world has various colors, not only white, black or yellow. So do the ART World. Here are 10 artists JWD Art Space chose to capture the full impact of black artists on art history.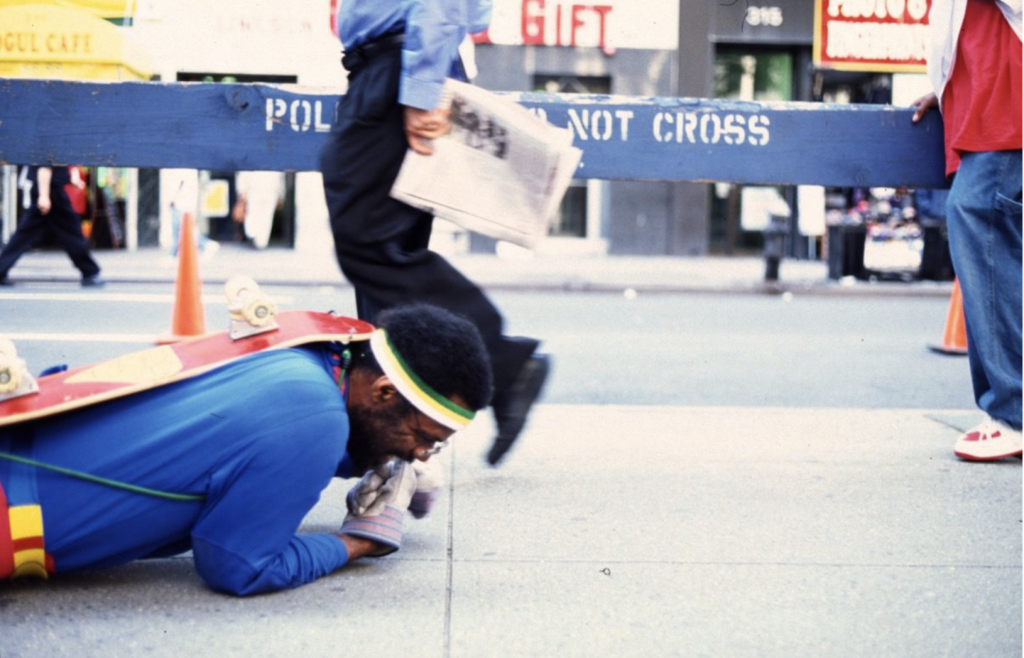 Artwork: The Great White Way Performance (2000)
POPE.L
Pope.L, who calls himself "The Friendliest Black Artist in America©" and is among the foremost contemporary performance artists, addresses labor, race, and identity in projects both searing and humorous. His work, which also includes photographs, sculptures, writings, paintings, drawings, and community projects, aligns with Fluxus. Asked if he considers himself an activist, he replied: "When people use the word activism today, it sounds like after-ism…The space I create in my work for others is more formalist, like, 'change the world'"
Among his numerous iconic pieces is The Great White Way, 22 miles, 9 years, 1 street (begun 1990), for which Pope.L donned a cape-less Superman costume, strapped a skateboard to his back, and dragged himself up the entire length of Manhattan's Broadway—a visceral, ridiculous, poignant display, or, in his words, "public prostration in motion."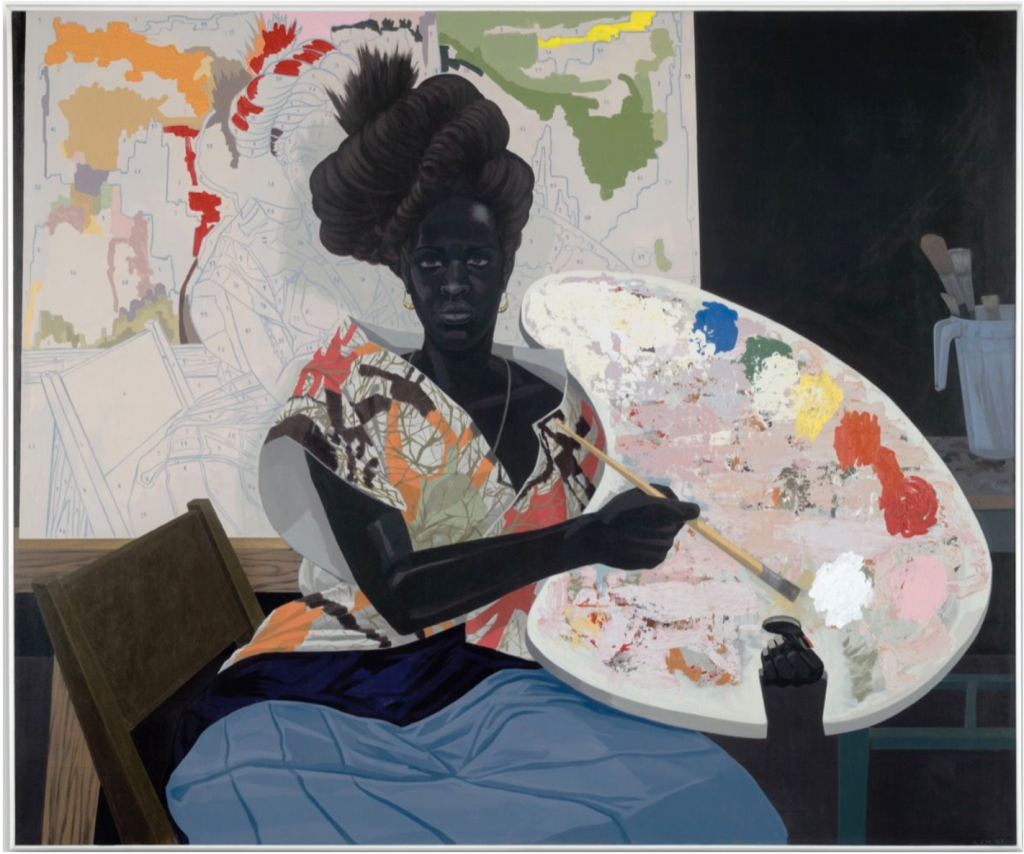 Artwork: Untitled (2009)
Kerry James Marshall
Kerry James Marshall challenges the marginalization of African-Americans through his formally rigorous paintings, drawings, videos, and installations, whose central protagonists are always, in his words, "unequivocally, emphatically black." As he describes, his work is rooted in his life experience: "You can't be born in Birmingham, Alabama, in 1955 and grow up in South Central [Los Angeles] near the Black Panthers headquarters, and not feel like you've got some kind of social responsibility. You can't move to Watts in 1963 and not speak about it."
Marshall's erudite knowledge of art history and black folk art structures his compositions; he mines black culture and stereotypes for his unflinching subject matter. In Black Star (2011), a nude black woman bursts through a Frank Stella-like canvas, commanding attention and daring viewers to consider how she has been (and how she should be) seen and portrayed.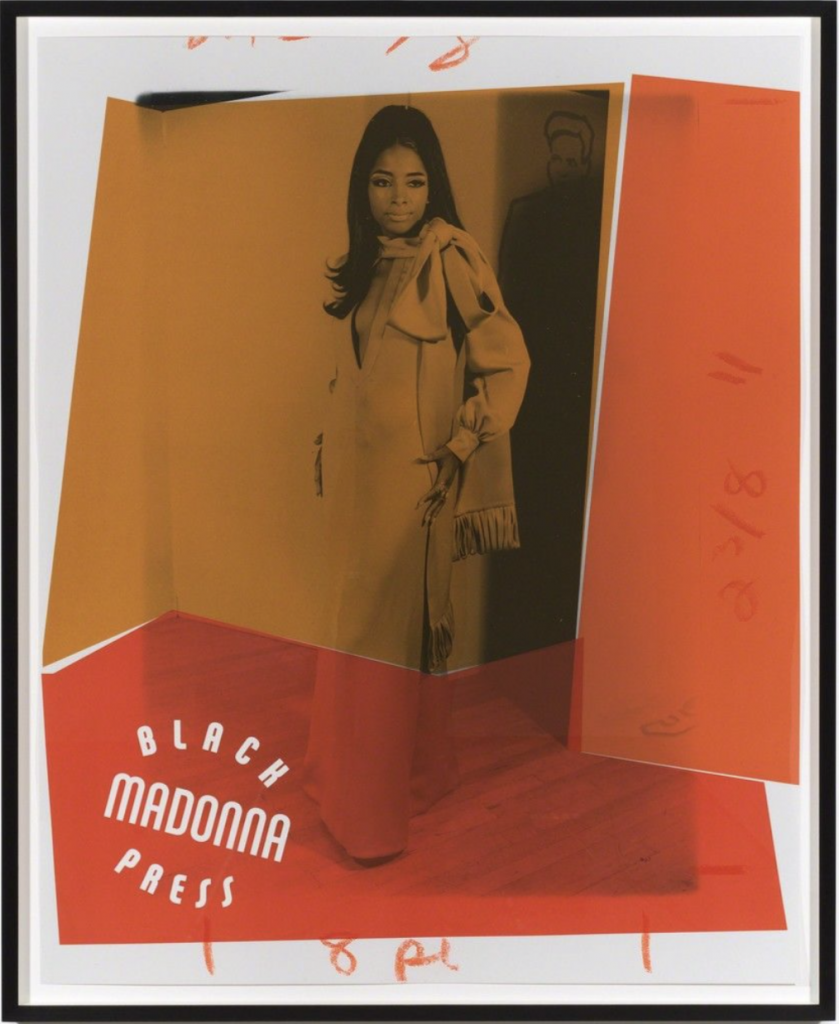 Artwork: Summer tones for a fall situation 2018.
Theaster Gates
"I think I'm a full-time artist, a full-time urban planner, and a full-time preacher with an aspiration of no longer needing any of those titles,"
Theaster Gates makes work focused on racism and poverty in America, and works to make change in downtrodden communities across the country. His practice is grounded in African-American history and culture, and in his own experience growing up on the South Side of Chicago. Slavery, industrial exploitation, and the Civil Rights Movement feature prominently in his sculptures, installations, and performances. During the 2008 financial crisis, Gates decided to focus on fostering improvement through art. Starting in his own neighborhood and expanding to other communities, he has effectively rejuvenated numerous abandoned buildings, transforming them into vibrant social hubs and cultural spaces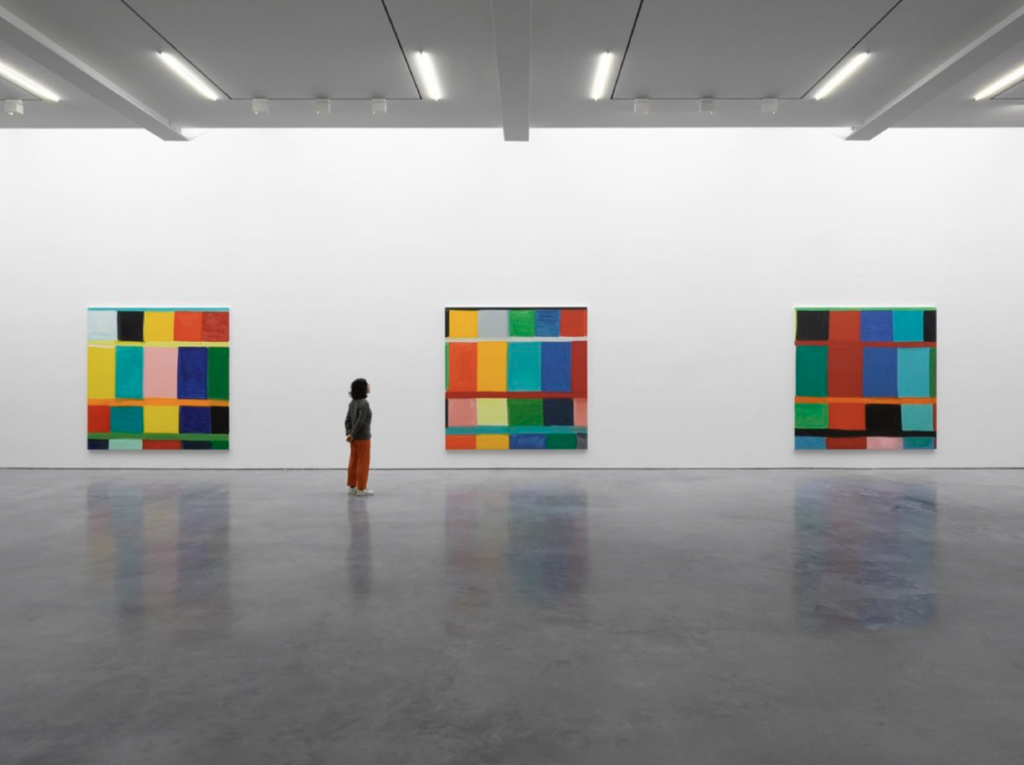 Artwork: From Lisson Gallery
Stanley Whitney
Whitney's vibrant abstract paintings unlock the linear structure of the grid, imbuing it with new and unexpected cadences of color, rhythm, and space. Deriving inspiration from sources as diverse as Piet Mondrian, free jazz, and American quilt making, Whitney composes with blocks and bars that articulate a chromatic call-and-response within each canvas.
Whitney has spent decades experimenting with the seemingly limitless potential of a single compositional method, loosely dividing square canvases into multiple registers. The thinly applied oil paint retains his active brushwork and allows for a degree of transparency and tension at the borders between each rectilinear parcel of vivid color. In varying canvas sizes, he explores the shifting effects of his freehand geometries at both intimate and grand scales as he deftly lays down successive blocks of paint, heeding the call of each color.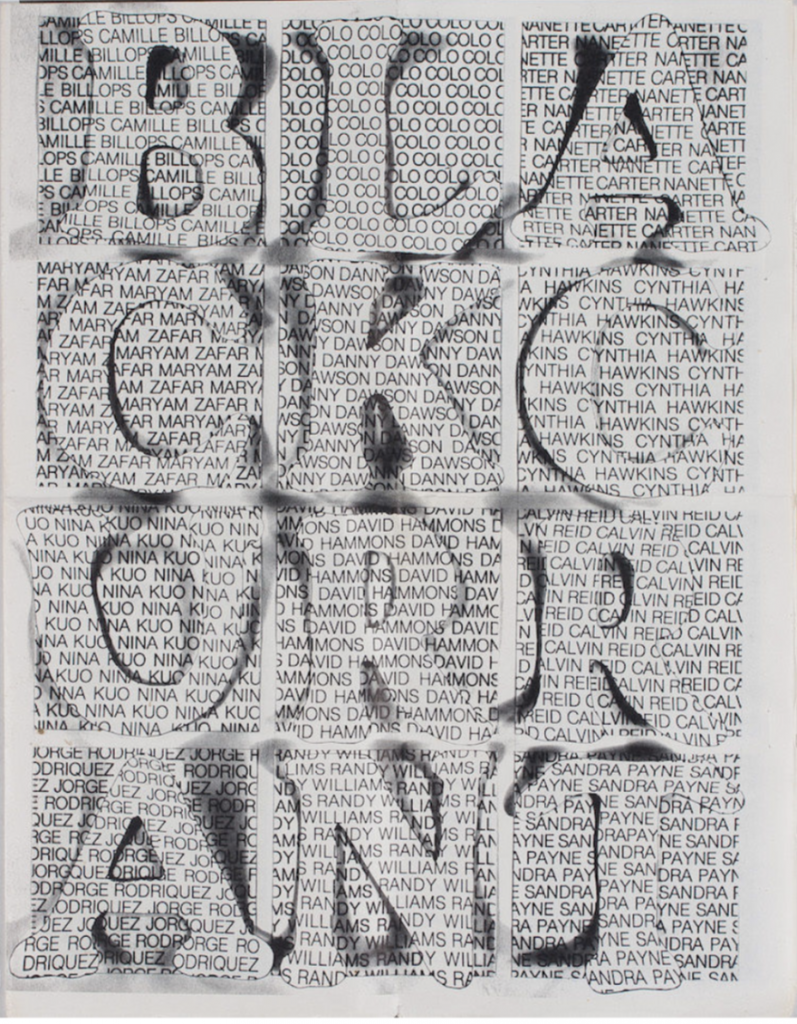 Artwork: Just above midtown (1982)
David Hammons
An artist best known to the art world for his refusal to participate in its rites and rules. He knows that to be black in an art world as white as the walls of its museums, and in an America where privilege and presence and whiteness go hand in hand, is to realize that visibility is something to mess with. However, Hammons has made many artwork that hooked the viewer from the late 1960s to the present.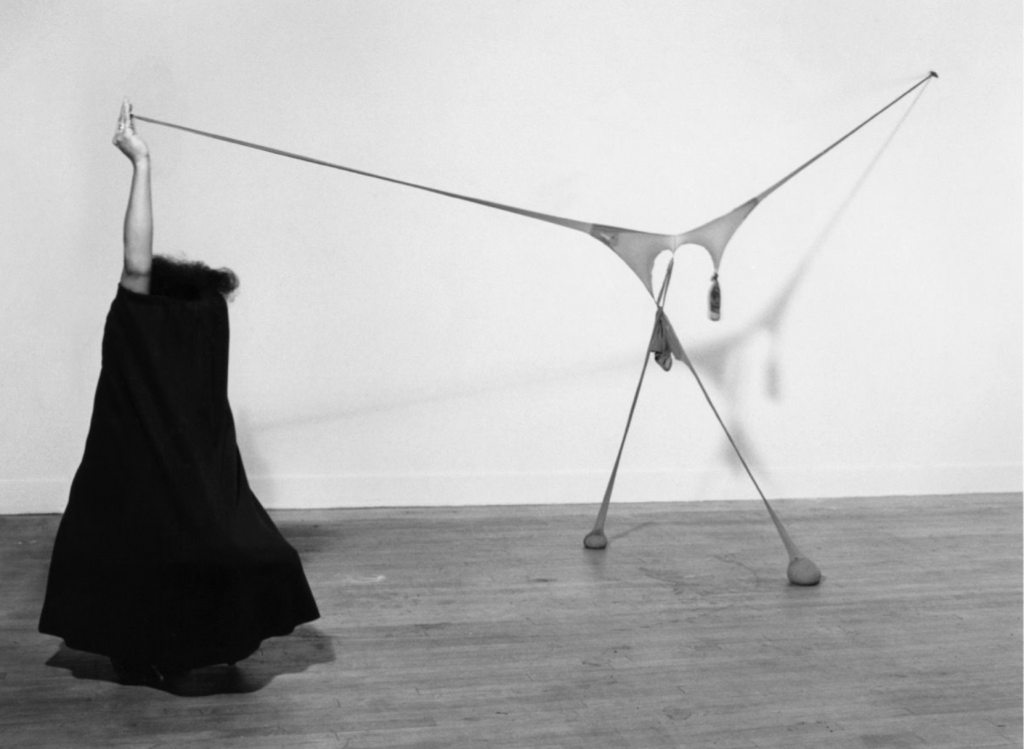 Artwork: Studio performance with RSVP (1976)
Senga Nengudi
Among the first artists to exhibit at Just Above Midtown, New York's first gallery to regularly feature African American artists, Senga Nengudi expresses her ideas about the human body through performance-based sculptures and installations. Her best-known work R.S.V.P. (1975)—so called because the artist really wanted people to respond—was an installation of sand-filled, dark-hued pantyhose knotted and stretched into all directions.
"It relates to the elasticity of the human body," Nengudi said. "From tender, tight beginnings to sagging… The body can only stand so much push and pull until it gives way." Her more recent work has included performative installations, variously incorporating ritual dance, sand painting, original music and videos, and cross-cultural references to the crafts of indigenous cultures around the world.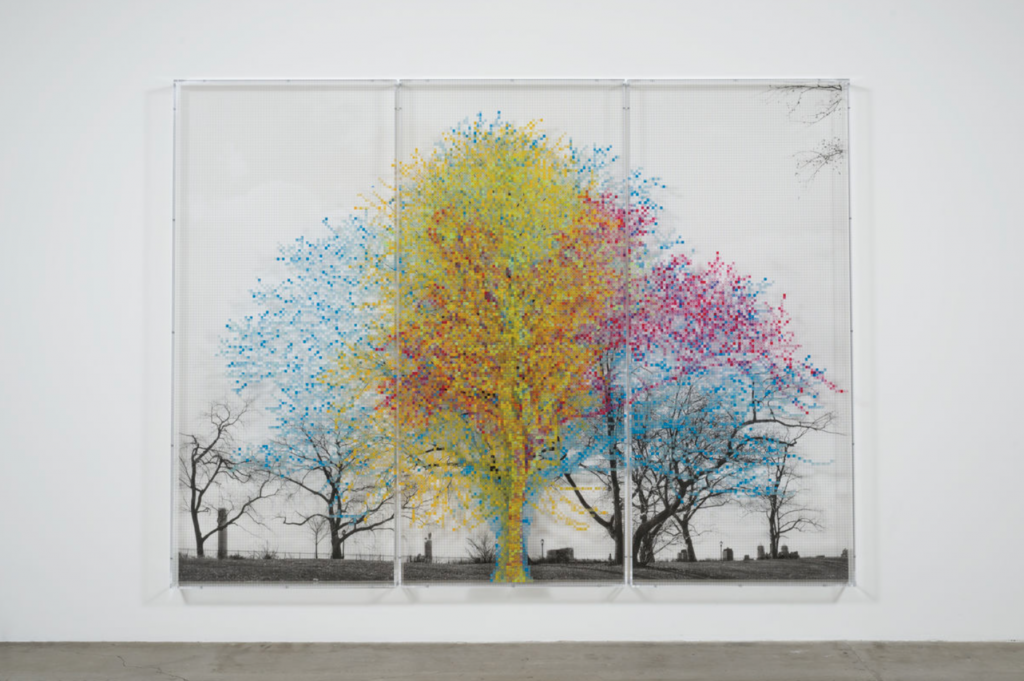 Artwork: Numbers and trees (2016)
Charles Gaine
In diverse and intellectually complex works, Charles Gaines explores the accidental, the tension between logical systems and the human hand, and the ways in which meaning is derived from art. Gaines cites John Cage as a major influence, and much of his work dwells on chance: Airplanecrash Clock (1997) is a kinetic sculpture in which a model plane repeatedly nose-dives to the ground, while text-and-photo pieces in "Absent Figures" (2000-01) record fatal mountaineering disasters on Mount Rainier in Washington. For Manifestos (2008), a collection of digital videos, musical compositions, and drawings, Gaines developed a system for translating excerpts from four revolutionary manifestos of the 20th century into musical scores, which play on speakers alongside the texts. Gaines is also interested in environmental degradation; Greenhouse (2007) is a sculptural enclosure whose lights and environmental conditions shift according to computer-generated readings of air pollution levels in California.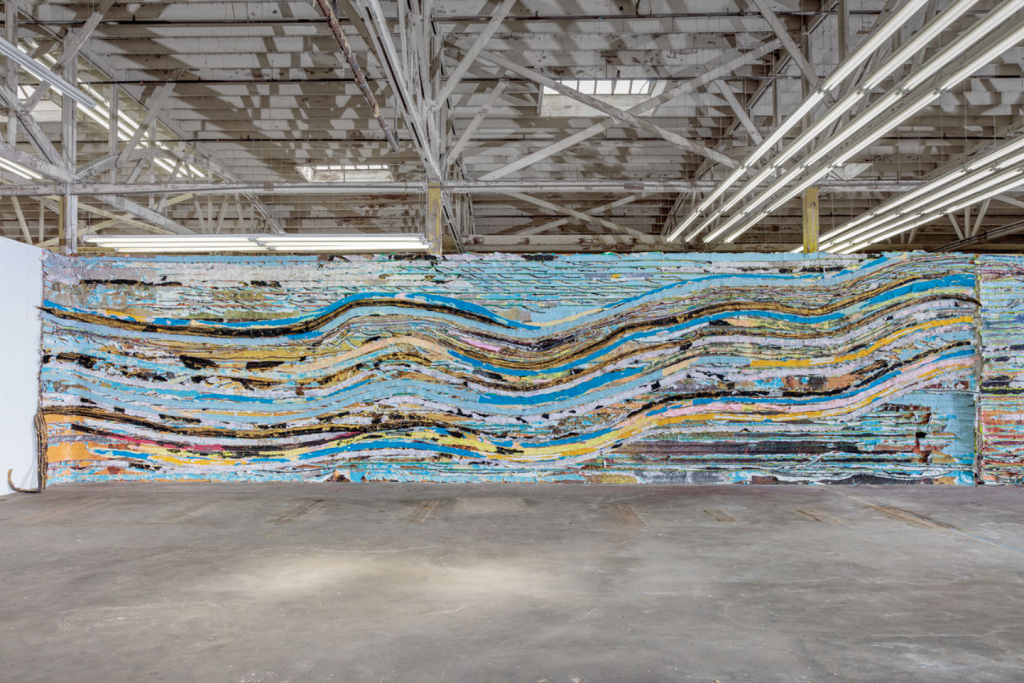 Artwork: Pickett's charge the high water mark
Mark Bradford
Fabricating his signature mixed-media collages with ephemera such as segments of billboards, flyers, and graffitied stencils, American artist Mark Bradford's works marry his interests in modernist abstraction with the urban community.
These ambitious, visually arresting works are striking for their simultaneous incorporation of physical remnants of a site and semi-figurative depiction of a scene or topography. In Kryptonite(2006), for example, Bradford amasses a dense grid of collaged materials that seems to delineate the aerial view of a city while visually recalling iconic modernist artwork such as Piet Mondrian's Broadway Boogie Woogie (1942-43). Bradford also creates public art, installations, and video, often exploring the relationship between high art and popular culture and between materiality, surface, and image. Bradford is a recipient of the Whitney Museum's Bucksbaum Award and was a 2009 MacArthur Fellow.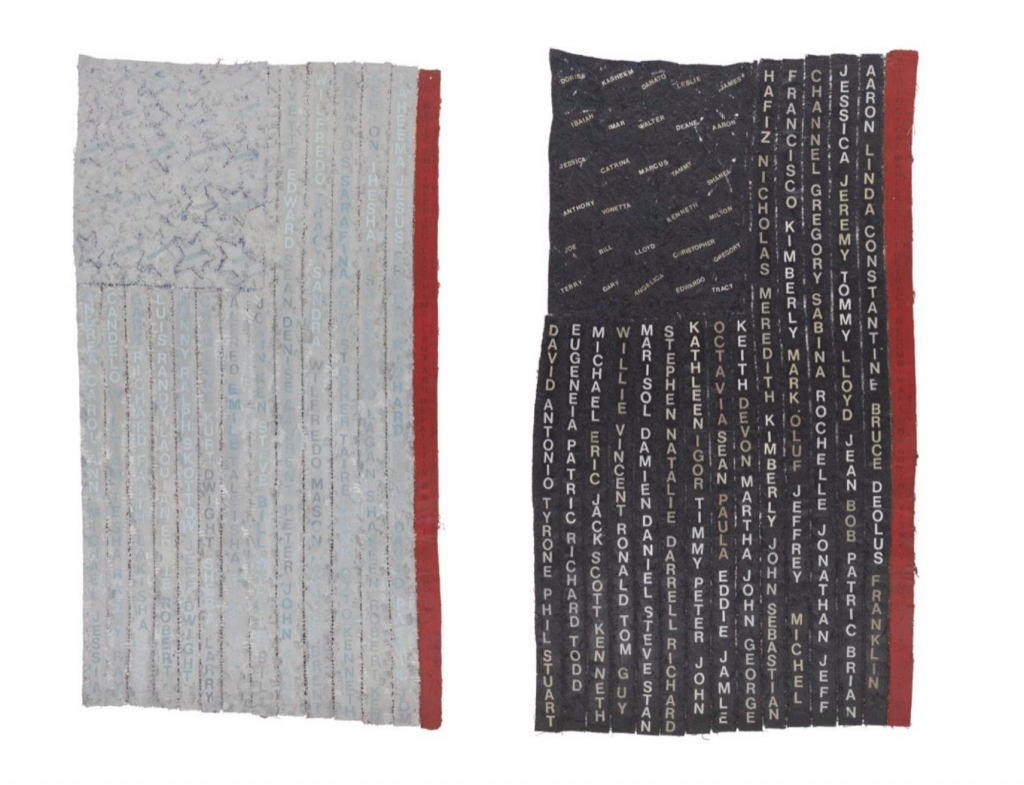 Artwork: Separate but equal genocide aids (1991-92)
Howardena Pindell
In 1967, Pindell was the only African American to receive an MFA from Yale's prestigious painting department. Moving to New York City after graduation, she diligently submitted her portfolio to galleries, eliciting positive responses only to have her work rejected when she was interviewed and "revealed" to be a black woman. As a woman and an African American, Pindell was doubly subjected to a scopic gaze.
In her work, she utilizes narrative and performance in the service of understanding her social condition, insisting that the social violence against her black body is coupled inextricably with her subjugation as a woman. An ardent feminist and founding member of the women's cooperative A.I.R. Gallery, Pindell has organized against racism and advocated for inclusive policies in the art world.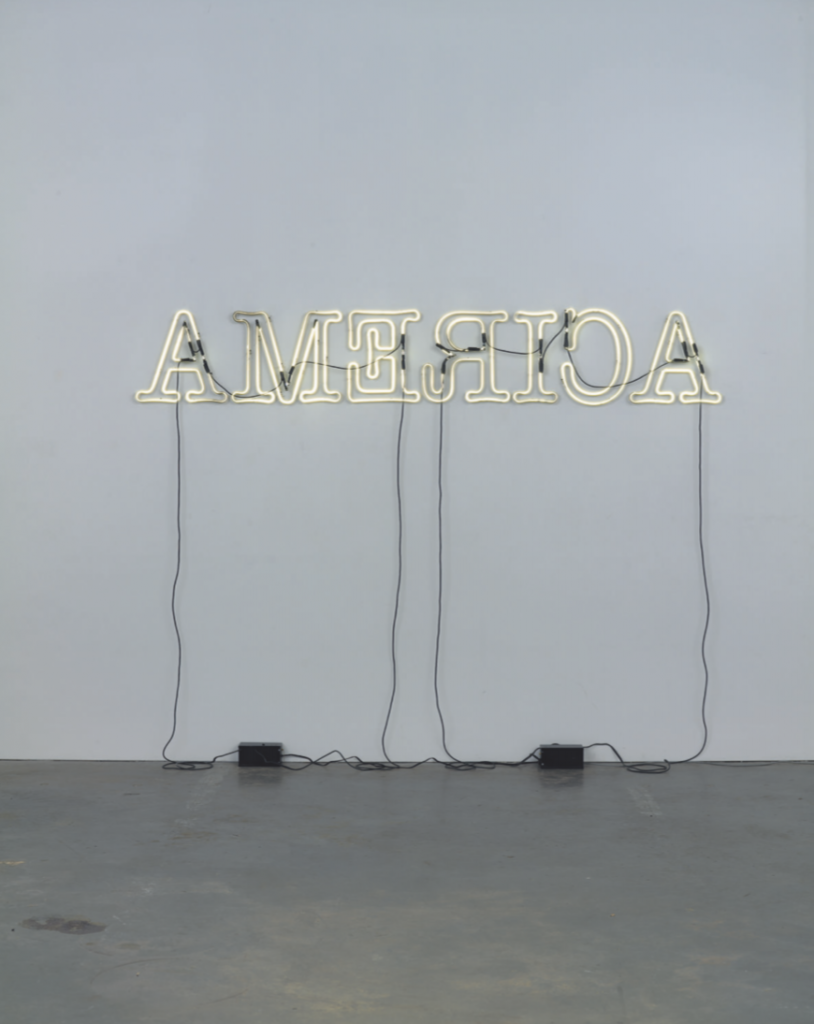 Artwork: Ruckenfigur (2009)
Glenn Ligon
Born and raised in the Bronx, Glenn Ligon grew up taking art classes at the Metropolitan Museum of Art while learning about identity politics through the racism and discrimination toward homosexuality that he encountered in New York. He combines this formal art education and complex personal history to create emotionally charged works that convey challenging messages.
In his 1993 Whitney Biennial contribution, Notes on the Margin of the Black Book (1991–93), for example, Ligon paired images and text to satirically comment on literary and visual representations of the black male body. Whether constructed from neon lights, coal dust, glitter, paint, or photographs, Ligon's work fluctuates between humor and startling honesty, reminding viewers that intolerance remains ubiquitous.
Latest Articles