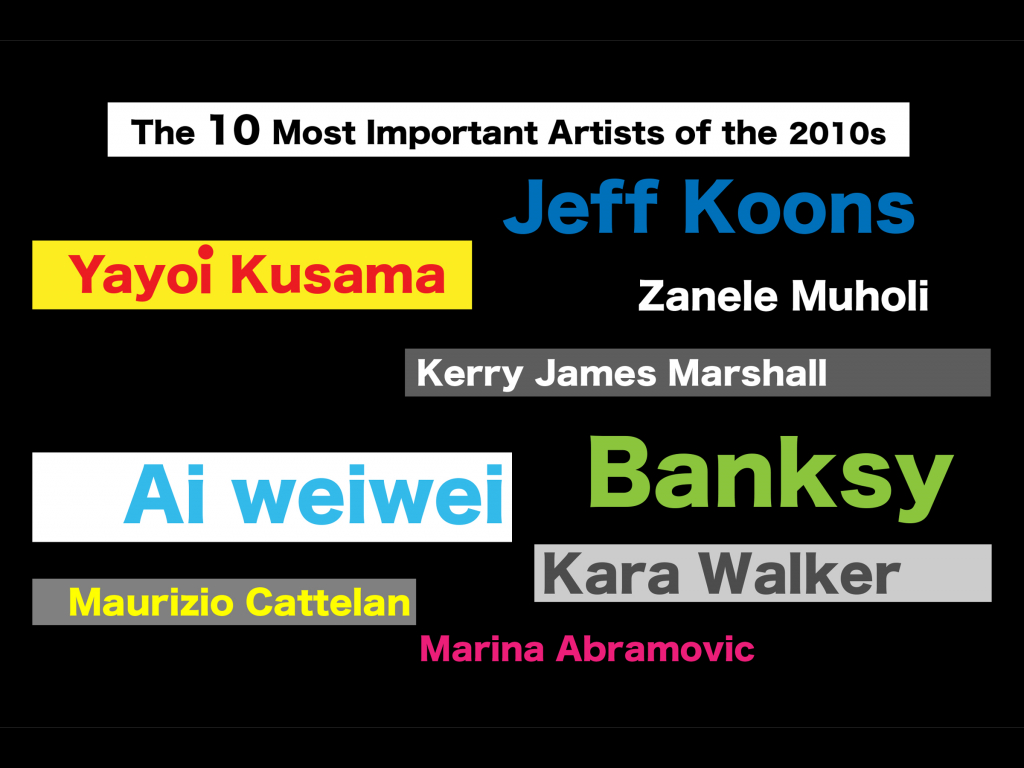 From Instagram-friendly installations and ephemeral interventions or performances parlayed into collectible merchandise, to irreverent or earnest pleas for public engagement, artists explored diverse tactics to engage with a broadening audience this decade. Those who thrived created instantly iconic works and changed global culture, becoming world-renowned celebrities and sparking fervent interest at the lowest and highest ends of the art market simultaneously. As economies rebounded from the financial crisis late last decade, competition among collectors drove record prices and fueled breathless news coverage of a resurgent art market. More people cared about and collected contemporary art this decade than at any other time in recent memory. The most impactful artists of the decade were those who most directly fueled—and tapped into—these new developments and expressions.
Ai Weiwei
The project that launched to global stardom, his commission for Tate Modern's Turbine Hall, opened in October 2010. The installation of 100 million handmade porcelain sunflower seeds was instantly iconic, photogenic, interactive, and an appealing metaphor about international capitalism. Once timeas he attempted to board a flight from Beijing to Hong Kong, Ai was stopped by authorities and detained for 81 days, ostensibly on suspicion of tax evasion. More likely, his many politically minded projects—some of them openly critical of the Chinese government and its policies—had made him a target for intimidation.
Marina Abramovic
Began the decade at an all-time high, with her historic 2010 retrospective at the Museum of Modern Art, "The Artist is Present." The exhibition featured about 50 works from the artist's nearly five-decade long career, and an estimated 750,000 museumgoers came to witness the unprecedented show. Long lines snaked around MoMA as guests waited to sit across from Abramovićas part of her performance in the museum's atrium. Due to the fact that Abramovićis primarily a performance artist, staging this retrospective meant training artists to perform her old works. This endeavor was chronicled in the widely celebrated documentary also titled The Artist is Present, which debuted on HBO in 2012 before winning a Peabody Award.
Kara Walker
The millennium's first decade may have been Kara Walker's breakout phase, when her violent and grotesque silhouettes depicting antebellum debauchery and barbarism sparked widespread acclaim. The artist using satire or irony through fun drawingsbut the hidden trajectory that comes from the deep feelings, to ask questions about the skin problems and criticizing society in modern times
Banksy
Banksy, the art world's anonymous agent provocateur, spent the past 10 years working clandestinely on increasingly ambitious and rigorously choreographed projects. Hestunned the art market when one of his paintings self-destructedmoments after it sold at a Sotheby's auction in 2018. The 2010 prank documentary Exit Through the Gift Shop, which he directed, earned an Oscar nominationand many creation activities all around the world, comes with his enormous painting Devolved Parliament (2009) at Sotheby's in 2019 for a record-smashing $12.1 million.
Maurizio Cattelan
The ultimate artist-prankster, successfully spent the 2010s delighting—and fooling—the art world. Case in point: Comedian(2019), a banana duct-taped to a wall that sold for $120,000, which incited a frenzy from Art Basel in Miami Beach to mainstream morning showsthis December. Yet that was just the latest of Cattelan's brilliant antics. In May 2011, the Italian artist unleashed 2,000 taxidermied pigeons across the Venice Biennale. Insidious satire that made his famous 'POPE' that being struck by a meteorite passing through the building glass. 'The Prayer Hitler' which is the satirical sculpture of Hitler prayed to the Lord, implying that he would forgive the genocideas well as the  'American (2016)', a toilet bowl made from 18 karat gold in the Solomon R. Guggenheim Museum'swhich open for people to to usewith a long queue.
Carmen Herrera
The minimalist women artist from Cuba that turns to 104 years old for now. She was the pioneer for the Abstract Expressionism, practice through the cultivation of artistic concepts for a long time and deeply develop into a spiritual works. Her line-up work is extremely famous at the age of 94. Herrera has exhibited many solo exhibition in Europe and New York such as Tate Modern, Whitney Museum, Hirshhorn and Smithsonian Institute.At the lastest Sotheby's benefit auction, new records for Herrera's geometric paintings were set multiple times; most recently in March 2019, at a auction, Blanco y Verde(1966–67) sold for $2.9 million.
Her groundbreaking work had been overlooked for far too long because of her position as an immigrant, people of color and woman, but this has been corrected  creditto tireless advocates and her persistent dedication to her art.
Yayoi Kusama
Kusama, one of the important Avant-gardism and radical feminist artist who came to prominence in the 1960s and '70s by executing wild conceptual and performance works, After crossing from Japan to New York to escape the pressure and suffering of society, she has made many work from varities platforms. She made a name for herself from a famous "Infinity Mirror Rooms"which mobilized audiences willing to wait 8 hours for their chance to enterjust to see her work only 1 minuit. And of course, at the world-class art auction, Yayoi Kusama is always one of the sparking pop stars.
Kerry James Marshall
By centering the black figure within beautiful, large-scale paintings and portraits, Kerry James Marshall has masterfully confronted the absence of black subjects and artists in the Western art canon. Marshall's black bodies in everyday scenes amplified this decade's growing movement of black, figurative painting as an important diversification of an American experience, heralding skin color, setting, and clothing as important attributes.
He became the most expensive living African American artist in 2018, when Past Times (1997) was purchased for $21.1 million at Sotheby's, making Marshall a fixture of auction houses' evening sales ever since. The Chicago-based artist's success affirms his place as an important artist forming a new chapter in art history.
Jeff Koons
The last decade was a roller coaster of stardom for Jeff Koons. Koons was first named as such in 2013, dethroning Gerhard Richter when his Balloon Dog (Orange)(1994–2000) sold to a phone bidder at Christie's New York auction house for a whopping $58.4 million. In November 2018, and hopped back in May 2019 when his Rabbit(1986) sold for just slightly over $91 million.
In 2012, he began showing with both of the two most powerful galleries in the world—David Zwirnerand Gagosian. Meanwhile, collaborations with everyone from pop star Lady Gaga to fast-fashion brand H&M brought Koons's art to the attention of many millions beyond the billionaires vying for his work at auction.
Zanele Muholi
The photographer who created an attractive story through the theatrical black-and-white self-portraits to weave together the threads of individual identity, black representation, and cultural history of Africa and its diaspora. Muholi is a master of performance in each frame, slipping in and out of personae and using objects rich with symbolism that comment on both cultural heritage and personal memory.
Since Muholi made their auction debut in 2013, their work has come to auction 14 more times—10 of them in the past year. Above all, they offer their own image as an indomitable black queer photographer during an explosive period of black creativity and the long-overdue rise of the black figure in art and photography.
Latest Articles