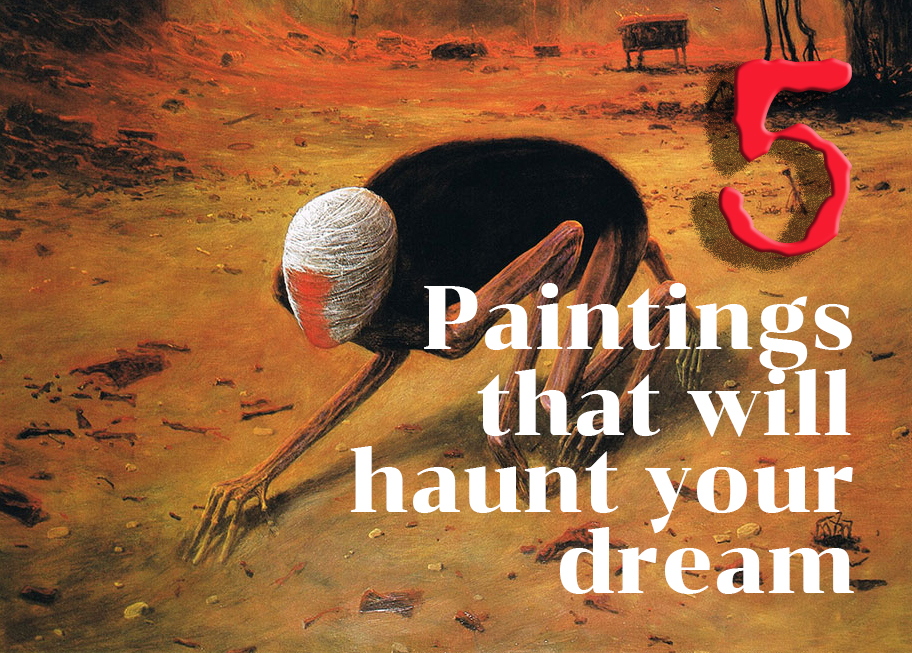 Let's take a journey through the scary scene from the masterpieces artworks. They are not just beautiful, timeless and show the philosophical side, within these canvases are reflect the darkness of humanity. JWD Art Space brings you 5 horror paintings that might popped up in your sweet dream!
Frida Kahlo, Girl with Death Mask (She Plays Alone). 1938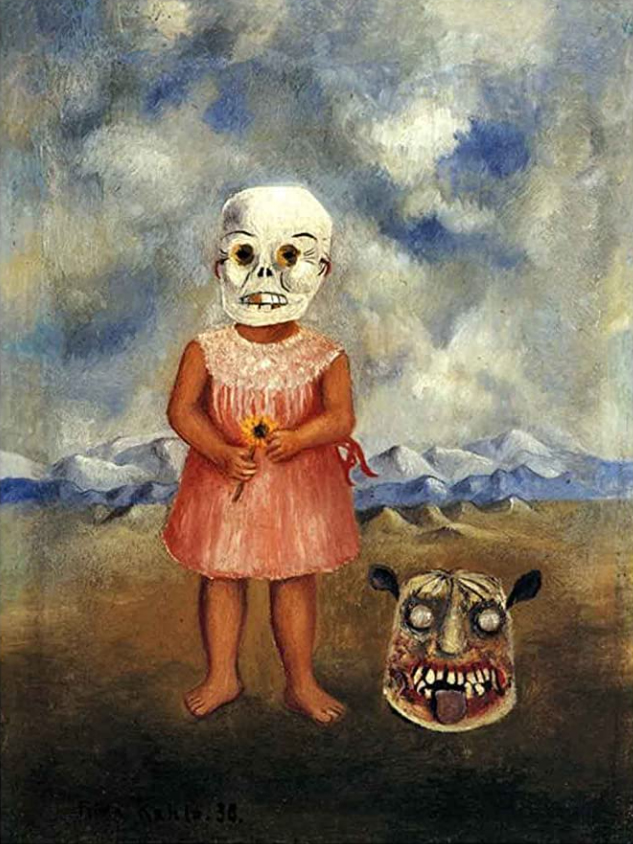 Mexican painter Frida Kahlo is well-known in the art world.
This peculiar piece depicts a young girl standing before a barren landscape. She holds a single yellow flower and wears a skull mask on her face. Both of these props are characteristic of Día de los Muertos—or Day of the Dead— prompting the viewer to reflect upon themes related to death. Finally, a beastly mask rests at her feet, adding even more mystery to the chilling painting. In this painting, she portrayed herself as that young girl
Girl with Death Mask (She Plays Alone) was painted in 1938—the year before her dramatic divorce from fellow artist Diego Rivera. Like many works created during this time, this piece was likely inspired by Kahlo's feelings of isolation and loneliness.
"I paint self-portraits because I am so often alone"
Salvador Dali, The face of war. 1940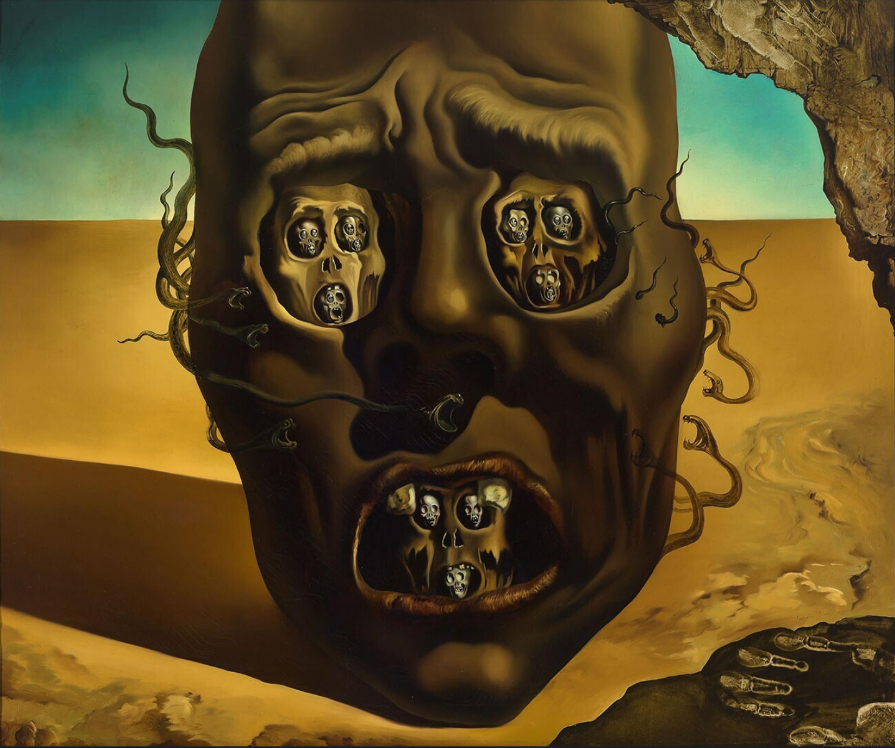 The famous artist and surrealist painter Salvador Dalí,
The painting portrays an emaciated face—much like a corpse under attack from serpents. Its expression is bleak and forsaken, which was Dalí's intention to show the ugliness of war. Within the mouth and eye sockets are identical heads and within them, are more identical heads, making this aspect of it infinite—another rather depressing concept.
Dalí painted the work in California, 1940, and it is believed to be more evocative of the Spanish Civil War than the Second World War, the brown shades represent war, while the blue-green tones represent peace. Dalí attested that much of his artwork stemmed from premonitions of future wars, and two inspiration for his paintings is from his libido and a general uneasiness when it came to death.
Photo: Museum Boijmans Van Beuningen, Rotterdam
Edvard Munch, The Scream. 1891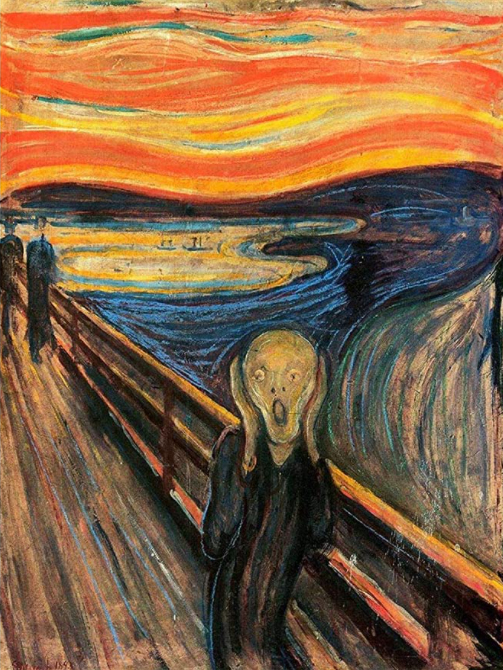 Expressionist artist Edvard Munch is renowned for his dark and dreary paintings and prints. From 1893 until 1910, he produced his most famous masterpiece: The Scream, the pose of the screaming head like a skull on a bridge, with hands cupped around it, and that is himself.
The swirling reddish-blue clouds are translated in this painting into compressed undulating bands of black and white that emphasize the acute panic expressed by the figure. The Norwegian painter friend recalled in his memoirs of 1908 how Munch had some years earlier discussed the episode; 'For some time Munch had been waiting to paint the memory of a sunset. Red as blood, he talked himself sick about that sunset and how it filled him with great anxiety
Photo: National Gallery of Norway via Wikimedia Commons Public Domain
Zdzislaw Beksinski, Untitled. 1973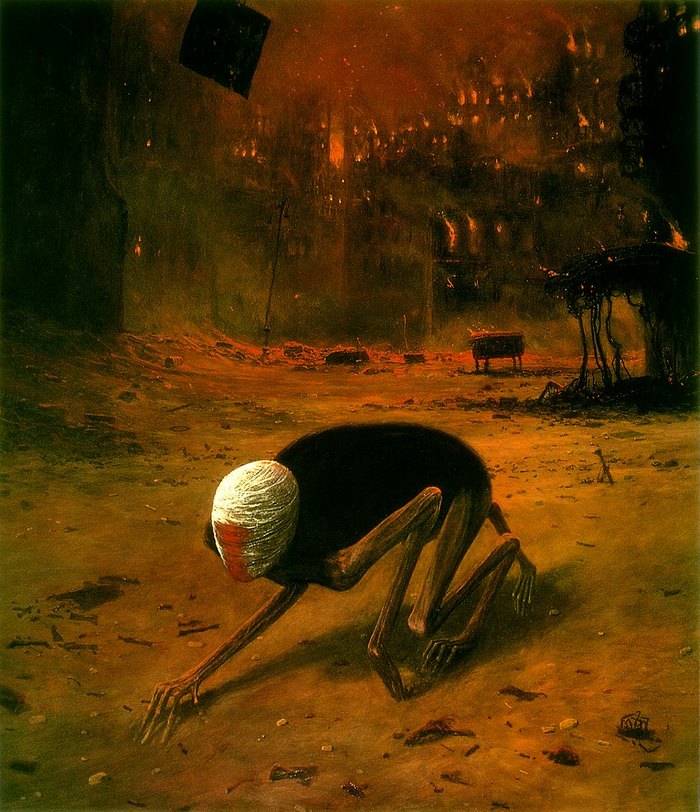 A Polish artist, Zdzisław Beksiński, who made a name for himself with his dystopian surrealism paintings, filled with post-apocalyptic imagery and creatures that come straight out of nightmares. After the 1960s, Beksiński entered what he himself called his "fantastic period" that lasted up to the mid-1980s. He created some very disturbing images, surrealistic environments with death and decay, landscapes with skeletons and deformed figures. These paintings were detailed and painted with his trademark precision.
He refused to title his paintings stating that at one point "meaning is meaningless"
Francisco Goya, A Pilgrimage to San Isidro

Most people noticed him with the famous 'Saturn Devouring His Son'. But a 'Pilgrimage to San Isidro' shows a different mood, a view of the pilgrimage towards San Isidro's Hermitage of Madrid. On the log road in the night time, an atmosphere filled with mystery and unpredictability. A group of prominent figures in the painting apparently intoxicated and singing with distorted faces, while farther into the background gives a strangely haunting feeling.
Latest Articles