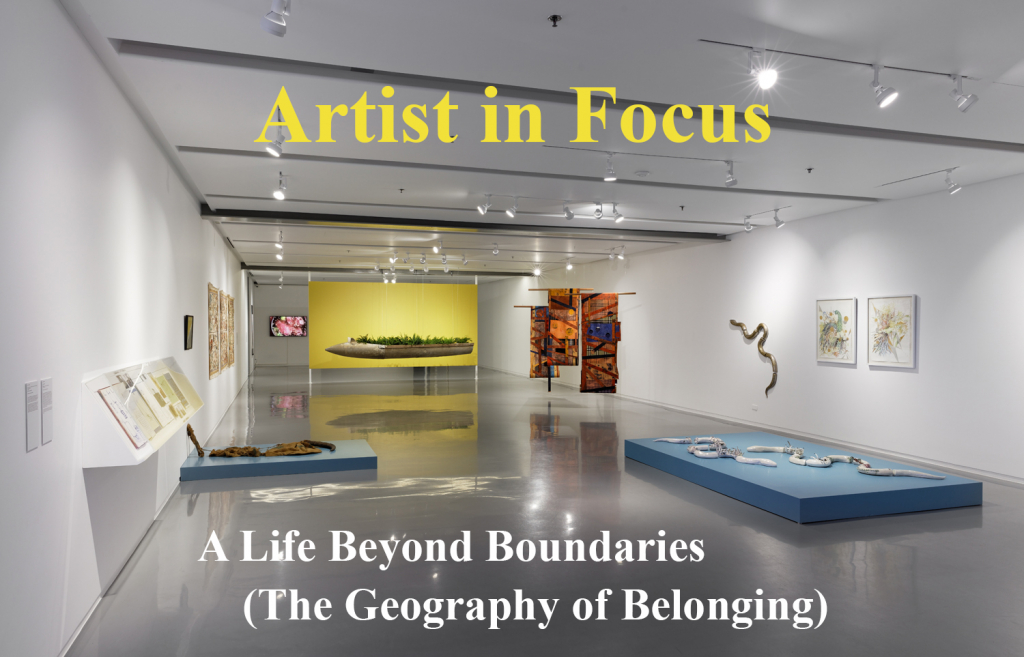 Defined as 'the official right to belong to a particular country', how is nationality ascribed? Is nationality a tangible concept and, if so, how can it be represented? How does a flag, a map or an icon of political hegemony symbolize one's own nationality? Or are heirlooms, traditions and cultural identity similarly significant expressions of the nation?
A large group exhibition, A Life Beyond Boundaries (The Geography of Belonging) emerges as a way to discuss, through visual art, national belonging in the context of Southeast Asia. Embracing a comparative approach to the region, the exhibition invites 14 artists of different generations to consider the conceptions of identity and belonging beyond straightforward geographical perspectives, but from the artists' subjectivities, premised in their personal observations on the meaning of nationality—as an individual or as a community.
The article will show the artist's creative thoughts and processes, it will be divided into two parts. Part 1 has 5 artists whose works are currently on show at the art space.
Boedi Widjaja
The Indonesian and Singaporian artist articulates subtle reflections on migration, memory, spatial relations and cross-cultural hybridities driven by first-hand experiences of migration and diaspora, the practice of. This is expressed through a broad range of media, from drawing and new media to architectural installations and Live Art, with an emphasis on process and bodily engagement.
Widjaja was a recipient of the Singapore Art Museum and QAGOMA co-commission for Black—Hut, Black—Hut(2018-19), for the 9th Asia Pacific Triennial and the 6th Singapore Biennale. Recent solo exhibitions include Declaration of (2019), Helwaser Gallery, New York City; Rivers and lakes Tanah dan air (2018), ShanghART Singapore; and Black—Hut (2016), Singapore Biennale Affiliate Project, ICA Singapore. His works have been included in international group exhibition such as MAP1: Waterways (2017), Diaspora Pavilion, 57th Venice Biennale; Jerusalem Biennale (2017); Yinchuan Biennale (2016); From east to the Barbican (2015), Barbican, London; Infinity in flux (2015),  ArtJog, Indonesia; and Bains Numériques #7 (2012), Enghien-les-Bains, France amongst others. In this exhibition, Widjaja has 2 works of art which is 'A cry a voice and a word that shall echo' (2021) and the video 'Forevermore' (2021). Supported by NAC Singapore and with partial support by NTU Centre for Contemporary Art Singapore, a national research centre of the Nanyang Technological University.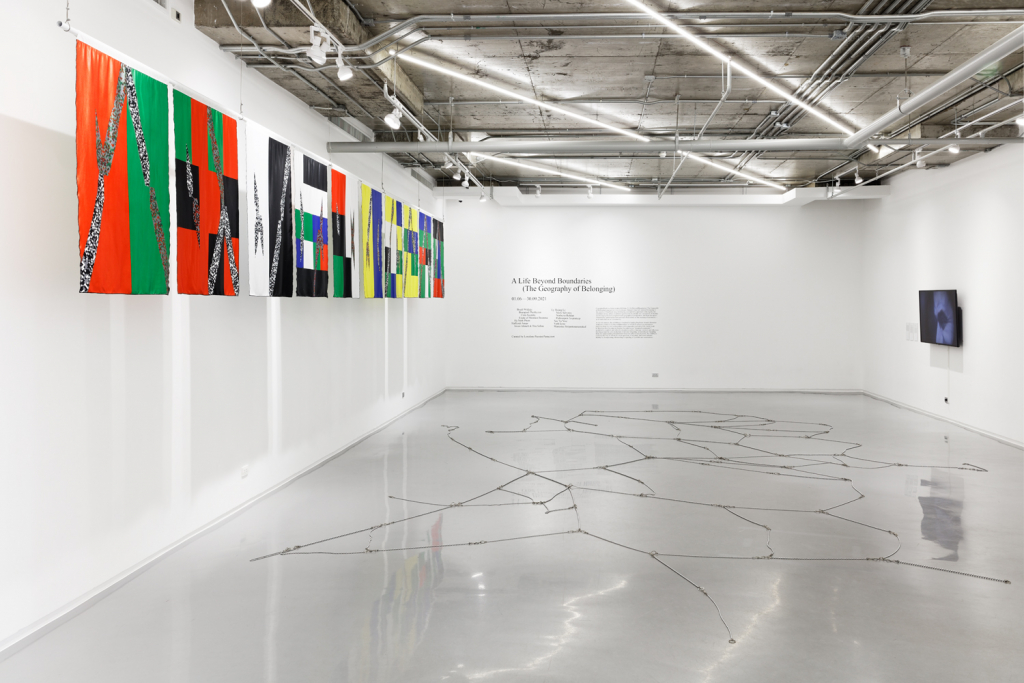 Widjaja uses a technique dye-sublimation print on fabric for the work titled 'A cry a voice and a word that shall echo'. The work considers the contemporary legacy of the 1955 Bandung Conference, at a time of geopolitical tension between two major powers and a pandemic induced questioning of synchronised, global cooperation. The Conference's final communique culminated in a ten-point "Declaration on promotion of world peace and cooperation". Adopted by all 29 delegates—majority newly-formed nations in Asia and Africa—the ten principles were hopeful assertions for a world in crisis during the Cold War. The title of the work is drawn from Indonesian President Sukarno's opening address at the Bandung Conference, where he quoted Henry Wadsworth Longfellow's poetic ode to a patriot who tipped the victory in the American Independence War through his midnight ride to warn of approaching enemy troops (A cry of defiance and not of fear / A voice in the darkness, a knock at the door / And a word that shall echo forevermore). Working with the notion of flags as coded dreams and declarations, the artist encoded the artwork title, and the Bandung Conference's ten principles, into the flag graphics by transposing the Morse Code sounds to colours of differing wavelengths that were sampled from the 120 national flags of the Non-Aligned Movement; formulating an encoding system and a visual language that recurs in his practice.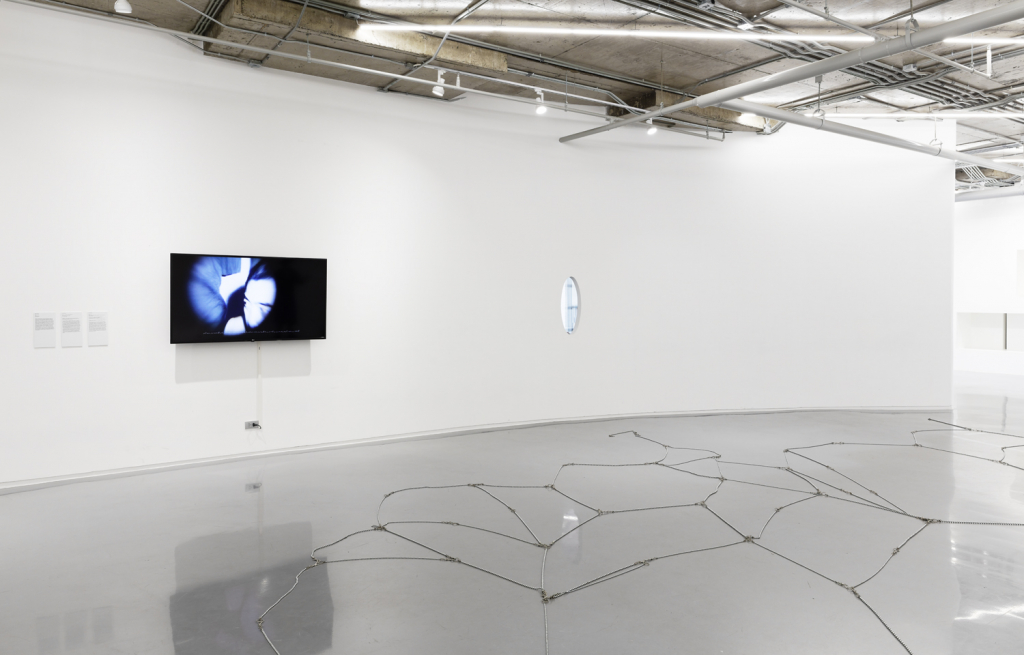 The video 'Forevermore' comes from the same source as well. When Indonesian President Sukarno addresses his opening at the conference.
"To speak is easy. To act is hard. To understand is hardest. Once one understands, action is easy" 
The Indonesian President Sukarno quoted from "one of Asia's greatest sons" – likely to be founding father of modern China Sun Yat-sen who, in turn appeared to have adapted a Goethean quote. The transcontinental echo across epochs led the artist to ponder upon the time-space of history; to urgently resonate in the present, a hopeful collective cry from the past. Through analogue techniques that include lens inversion, Widjaja reframes and refocuses the press photographs of Bandung Conference into moving images. Embedded in the video is sonification of the words "a cry / a voice / and a word / that shall echo" that were drawn from a poem by Henry Wadsworth Longfellow that Sukarno also quoted in his address. The artist worked with digitally manipulated gamelan (a traditional metallophone musical instrument in Indonesia) sounds and a custom algorithm to create the soundtrack. The video is generative in the tradition of Eno's ambient music. An algorithmic composition that plays different every time, and (almost) infinitely.
Explore more for his work in the video 'Artist in Focus'
Bounpaul Phothyzan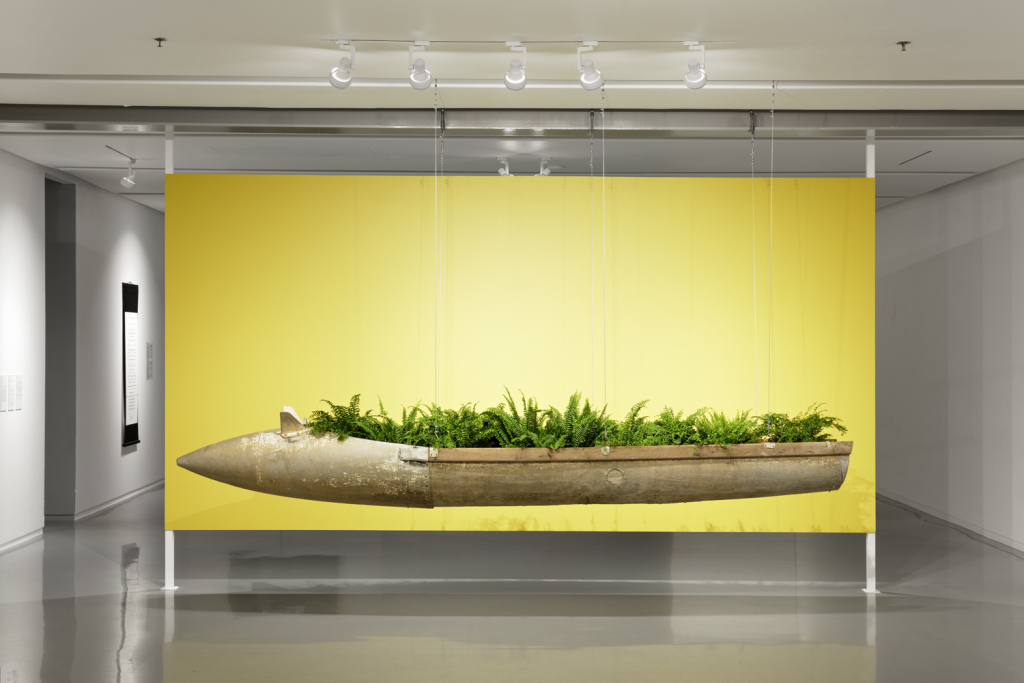 The contemporary artist from Laos is an emerging artist whose practice centres on Land art, installation art and video art. He graduated from the Institute of Fine Arts (previously known as Faculty of Fine Art) in 2007, and was awarded a scholarship to undertake a Master's degree in Visual Art at Mahasarakham University in Thailand.
His solo exhibitions include Champa Muang Lao exhibition (2004), Turning Point exhibition at Mask Gallery (2015), and River Flows Through My Soul exhibition (2019) in Vientiane Laos. He has also participated in various international group exhibitions include Singapore Biennale (2013), Singapore Arts Stage (2014), The 5th Fukuoka Asian Art Triennale, Japan (2015), Remembrance Reimagining ASEAN + KOREA in Jakarta, Indonesia (2016), Gwangju International Art Festival, South Korea (2017), Imaginarium: To the Ends of the Earth at the Singapore Art Museum (2018), The 9th Asia Pacific Triennial in Brisbane, Australia (2018). Busan biennale south KOREA 2019.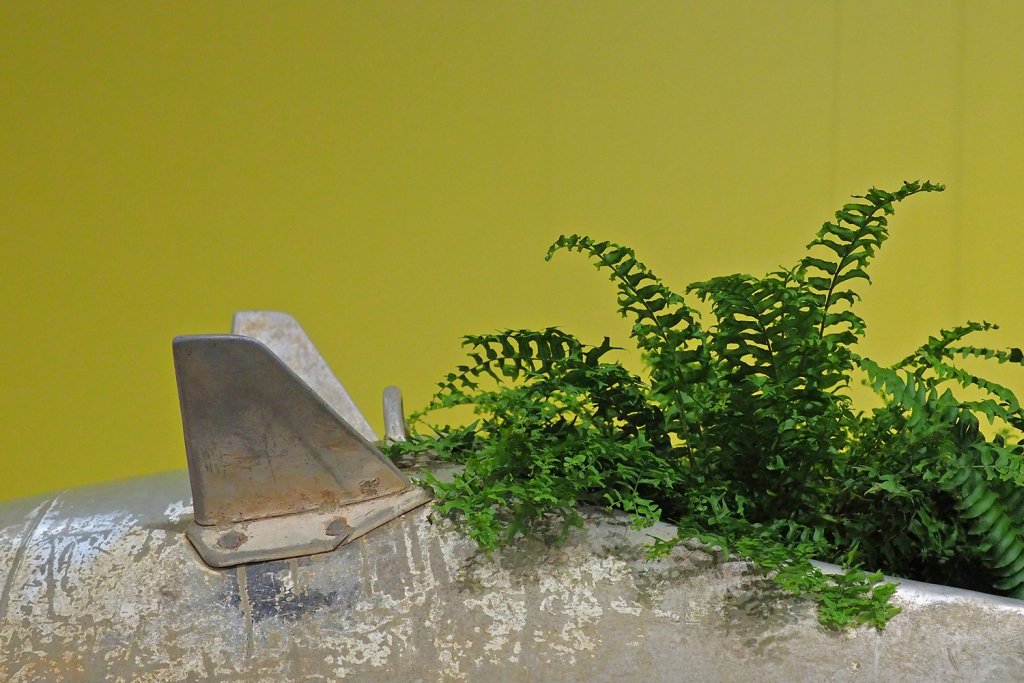 The work titled 'Life of the Land' was created to reflect human's tenacity in the face of conflict. In this work the artist meaningfully repurposes a bombshell into a large pot for plants, in a way to generate new life and hope from the destruction of war.
"For the project Lie of the Land, I was drawn back to the outlying areas of Laos near the shores of Thambak Village in Bolikhamxay Province. Bordering Vietnam to the east, conversations with the residents in the area provided me with invaluable lessons in history and social politics to understand their experiences of living through the many wars that have plagued Laos. Hatred and revenge are not the best solutions for humans to live happy lives. We cannot change the past, but we can choose to look forward to see the opportunities before us. Weapons of war leave people in sorrow but at the same time, through resourcefulness, can be turned into useful tools. The bombs buried across Laos, for example, are made from good quality aluminium that we have been using to create household utensils such as pots, forks, spoons, and building materials such as construction parts etc."
Explore more for his work in the video 'Artist in Focus'
Citra Sasmita
The contemporary artist from Bali whose work focuses on unravelling the myths and misconceptions of Balinese art and culture. She is also deeply invested in questioning a woman's place in social hierarchy and seeks to upend normative construct of gender.
One of her long term project, Timur Merah Project, on Kamasan canvas, represents a geography of female figures, fires, and various natural elements, composed whimsically in an unfolding of pansexual energy. While rooted in mythological thinking with Hindu and Balinese specific references, the scenes are equally part of contemporary process of imagining a secular and empowered mythology for post-patriarchal future. Sasmita's solo recent solo show is 'Ode To The Sun' (2020) at Yeo Workshop, Gillman Barrack, Singapore. She has won the Gold Award Winner UOB Painting of The Year 2017. Some of her group exhibition include the  Biennale Jogjakarta (2019), Garden Of Six Seasons 2020; Para Site, Hong Kong  and the  Kathmandu Triennale.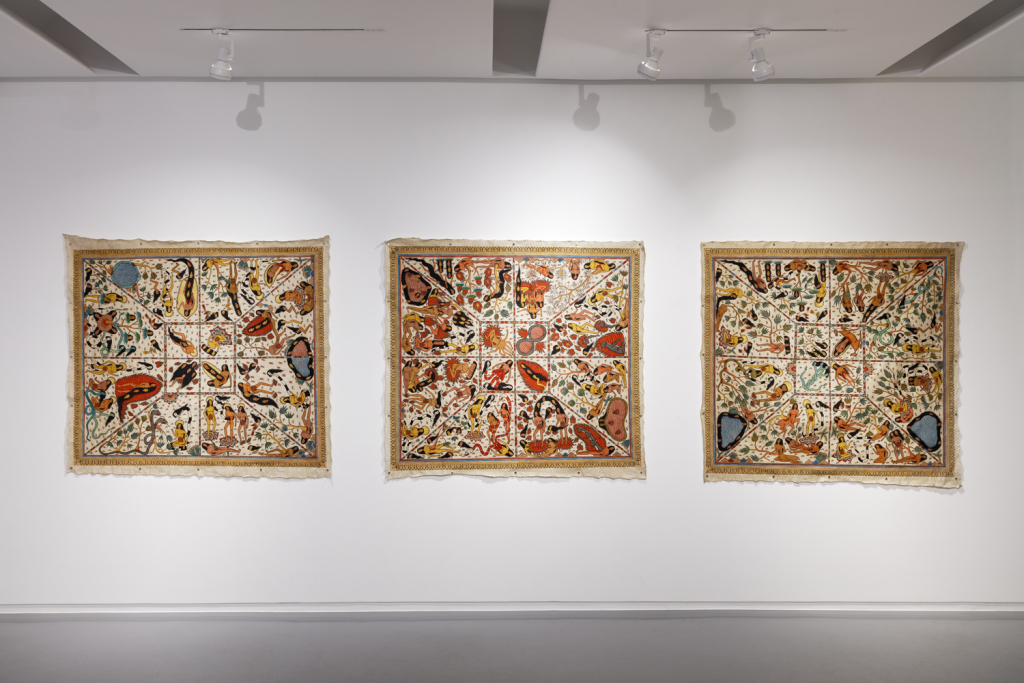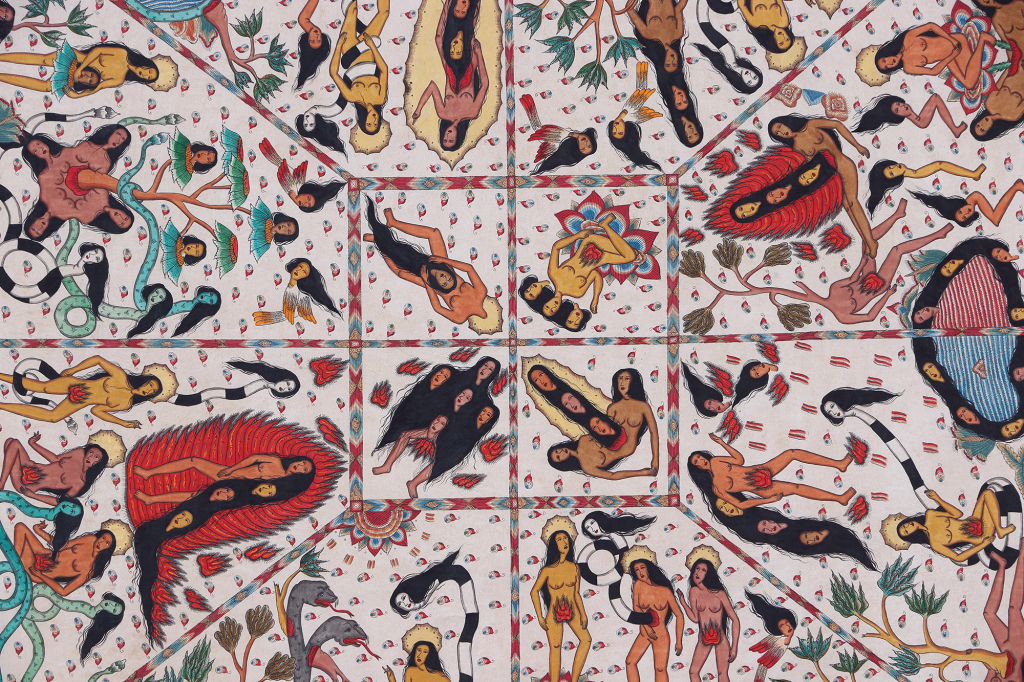 In this exhibition, Sasmita shows 'Timur Merah Project VI' (2021). It's from the ongoing Timur Merah (East is Red) project,  she traces Balinese historical narratives through literary sources and images of mythology to reconstruct marginalised, female-focused journeys of life. Furthermore, the artist adopts the traditional Kamasan painting technique, typical of Bali and historically executed by men, to create large installations and works that reframe the patriarchal Balinese culture by adding ubiquitous female figures representing life and nature.
In the works featured in the exhibition, the artist focuses on the representations of the under- middle- and upperworlds in Balinese beliefs. To do so she incorporates narratives of the Sanskrit epic Mahābhārata by taking inspiration from the famous Kamasan frescos in the Kerta Gosa Palace in Bali, which tell the story of Bima in Heaven and Hell. Built in the 17th century, the palace was the residence of the high king of Bali. Part of the palace was a court of justice, in which the citizens were judged and sentenced. In the works, Sasmita adapts the geometrical forms and shapes of the murals, replacing the characters of the paintings with female figures as symbols of nature and human anatomy, to address cultural identity from the perspective of social marginalisation.
Explore more for her work in the video 'Artist in Focus'
Haffendi Anuar
The Malaysian artist, his current work looks at the kain pelikat, a type of colourful plaid tubular transnational 'male-skirt' usually worn domestically and sometimes as an informal labour uniform in parts of the global south. Oriented in relation to his childhood memories of encountering and being enveloped by the fabric, his research and exploration into the iconography of the garment encompasses personal family photos, archival photographs, images from social media and the Internet and looks into the fabric's origin, social utilization, visual patterns and formal structure. From the materials gathered, he would reimagine the fabric as constructions for hammocks, cradles and nets, working in a process that incorporates collage, painting and sewing.
Recent exhibitions include Midday Stanza (solo), Richard Koh Fine Art, Singapore (2019), Elephant Utopia (solo), Art Taipei (2015), The Foot Beneath the Flower (group), Nanyang Tech University ADM Gallery, Singapore (2020), For the Few and the Many (2-person), Beers London, London (2019) and 'head, heap, heat,' Institute of Contemporary Arts, Singapore (2018).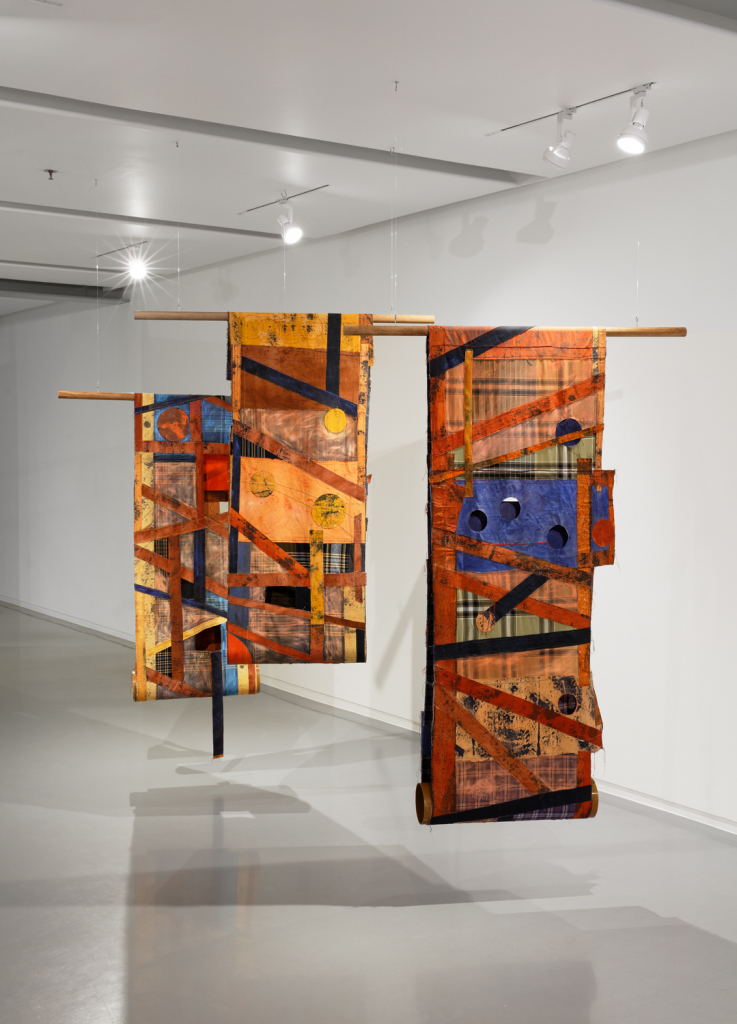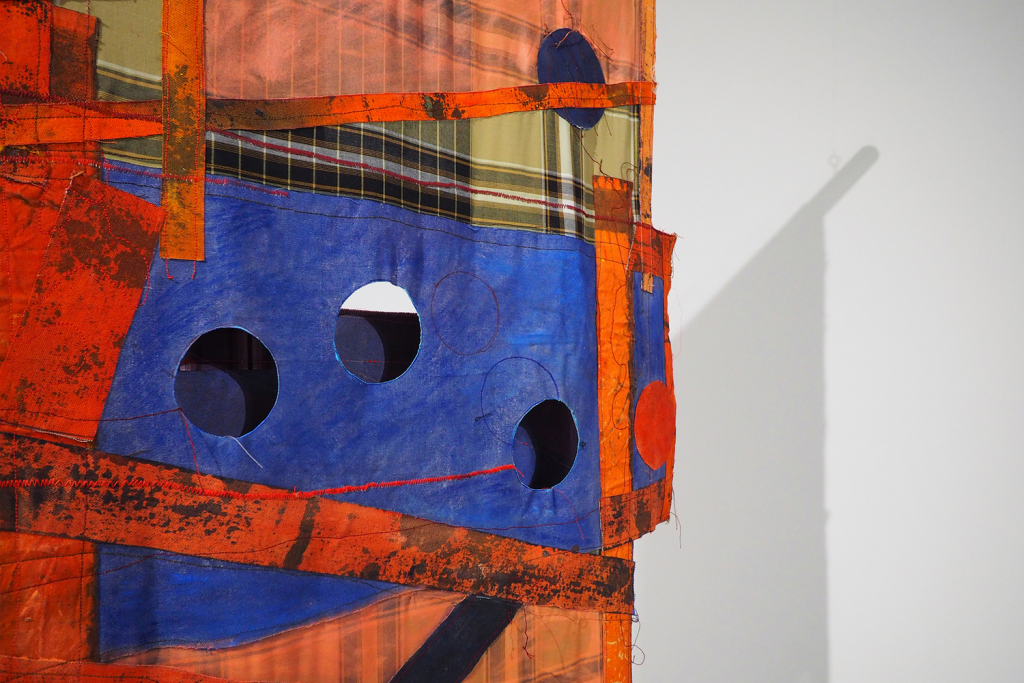 In these series of works is in collaboration with Richard Koh Fine Art. For the work 'Site I – III'. He uses traditional clothing –  the kain pelikat, and other textiles that are associated with Malaysian and border Southeast Asian cultures , as a way to dismantle and reconstruct new meanings of belonging.
"I have been using textile (kain pelikat, felt, canvas, rice sacks and denim) and was fascinated by the versatility of the material and its potential to activate space. I have been painting and dyeing the pieces and connecting them via sewing techniques and would think of them as both paintings and sculptures. Process-wise, I would layer the fabrics, slit into them, make holes, and let them drape from a ceiling structure, working with the materials' weight, density and gravity. Sewing also has become a method of connecting as well as drawing. I think of them as pieces of architecture, like building a house. I have always been captivated by wooden homes in urban centres in Southeast Asia, in most cities you would be able to find them, at times sandwiched in between glitzy skyscrapers. They are to me urgently economical and appear handmade and haphazard, but there is always a kind of logic to their structure and how pieces seem to fit to one another harmoniously."
Explore more for his work in the video 'Artist in Focus'
Hà Ninh Pham  
The artist from Hanoi, Vietnam is a fine artist and art educator. His work explores the way in which we construct our understanding of territories from afar. Hà Ninh Pham graduated from the Pennsylvania Academy of the Fine Arts in 2018, and the Vietnam University of Fine Arts in 2014. His work has been featured on Hyperallergic, New American Paintings, and ArtandMarket. Hà Ninh has been in residence at the Skowhegan School of Painting and Sculpture, the Corporation of Yaddo, Wassaic Project, the Marble House Project in the United States, and PLOP in the United Kingdom.
His work has been shown in New York, London, Philadelphia, Kuala Lumpur, Singapore, Hanoi and Ho Chi Minh City. Hà Ninh Pham is represented by the gallery A+ Works of Art at S.E.A. Focus 2021, Singapore. He is currently Assistant Professor of Painting at the Vietnam University of Fine Arts, and Associate Lecturer at RMIT University Vietnam.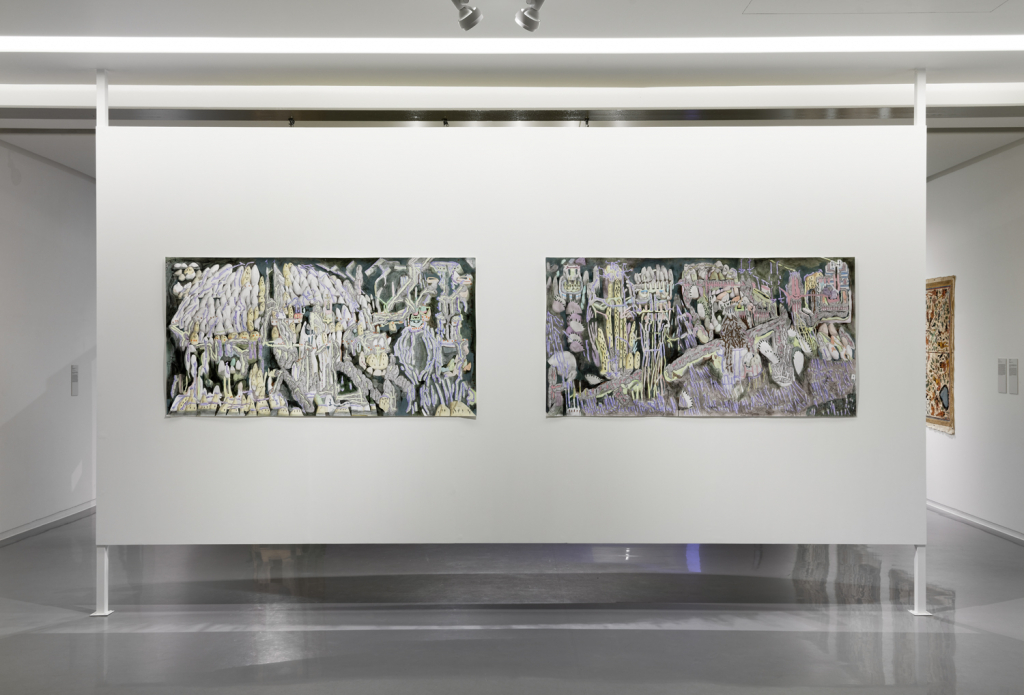 For these series in the exhibition at JWD Art Space, the work is in collaboration with A+ Works of Art. 'F8.1 [East Wing]' and 'F8.2 [West Wing]'. Both are from 2021. He forgoes the question of national belonging altogether, instead developing through his drawings and practice the representation of an imaginary land, beyond geography.
"My work explores how we construct an understanding of a territory from afar. Since 2017, I have been working on a long-term project titled My Land, in which I grant myself an absolute power to create a world according to my rules. This project contains drawings, sculptures and writings that represent maps, artifacts and tales of an imagined territory. This territory does not correspond to any known culture in human history. It has its own systems of logic, language, and metrology that are functional only within themselves. I consider the project as a thought experiment of a phenomenal environment in which the personal experience of any viewer is stripped away. He or she must completely abandon his or her own invalid cultural legacy in order to navigate the environment."
'My Land' is designed to have four different "entrances"- four starting points to experience the territory. The most common "entrance" is to begin with the keymap [mothermap], which represents the whole territory with the universe around it. According to the map, the territory is stuck between day and night, outside of our perception of time. The map is divided by an 8×8 grid, thus having 64 space units. Each unit then leads to a separate map, which has its own space units, and so on. The project continues to develop according to this procedure. As the project grows, [mothermap] is remade accordingly. I construct the framework of all entrances in this way, making the whole project under infinite revisions and expansion."
Explore more for his work in the video 'Artist in Focus'
Irwan Ahmett and Tita Salina
They are a self-taught artist duo currently based in Jakarta, Indonesia. Their earlier works developed from the idea of placing 'imagination' through performative intervention amid chaotic public spaces in the megalopolis Jakarta, which faces the dilemma of uncontrolled urbanization and pollution. The development of networks in art and activist circles has encouraged their artistic practice to progress towards more profound circumstances. They are currently working on a long-term project related to geopolitical turmoil in the Ring of Fire – Pacific Rim, the region most prone to natural disasters as well as traumatic consequences as caused by persistent ideological violence.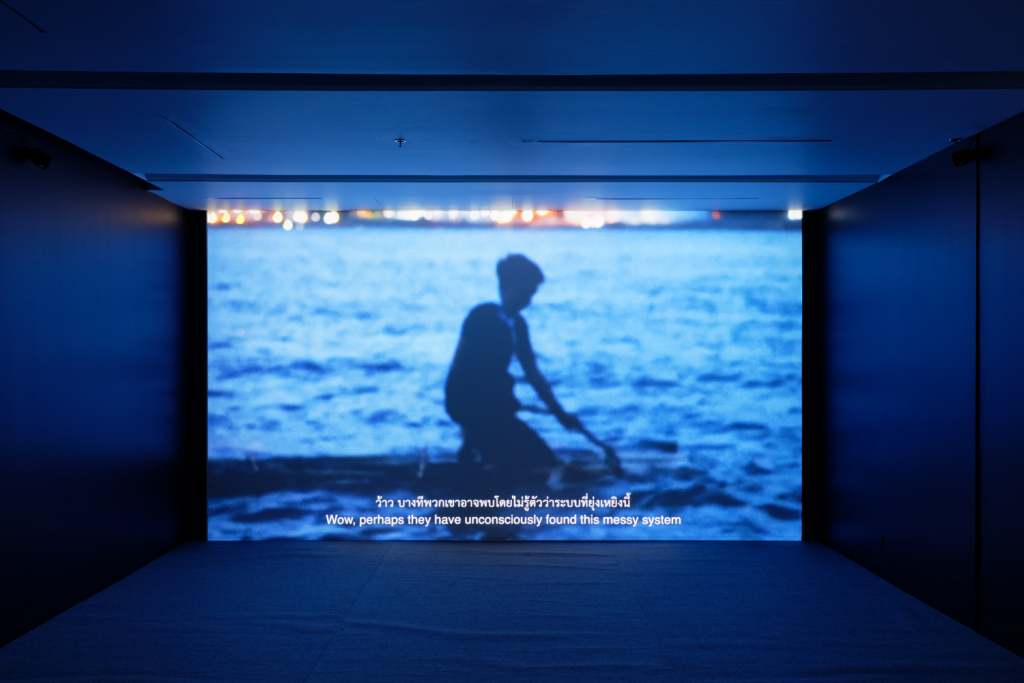 They've collected their researches and footages, to give you this short introduction to their astounding work: "When You Arrive You'll Regret". The work reveals the gruesome yet realistic situation of the work and its people, focusing on Indonesia and the boomtown of Batam- a part of the free trade zone in the Indonesia-Malaysia-Singapore Growth Triangle. A place where identity and freedom are being continuously questioned and restricted by territorial integrity.
Explore more for their work in the video 'Artist in Focus'
Ly Hoàng Ly
Evoking her homeland Vietnam, thousands of kilometers away, the work 0395A.ĐC, which encompasses the photography series Ashes, was created by multidisciplinary artist Ly Hoàng Ly while residing in 2011 in Chicago for her residency. In this project the artist ventures into identity and belonging through memory as a way to unleash the emotions that emerge from the search for identity—hers and of her own country.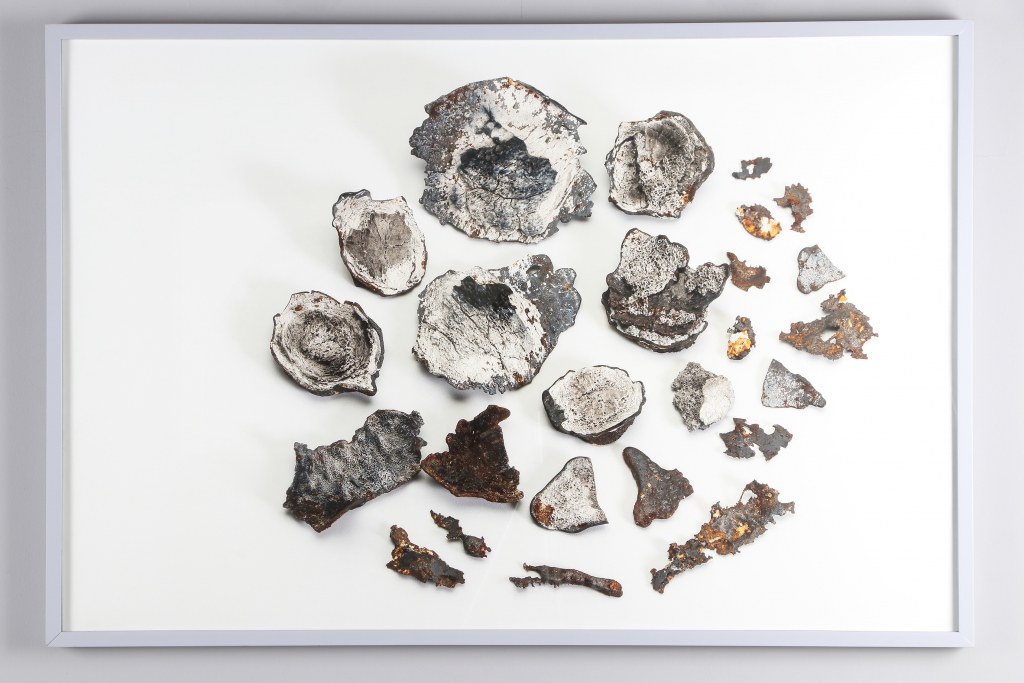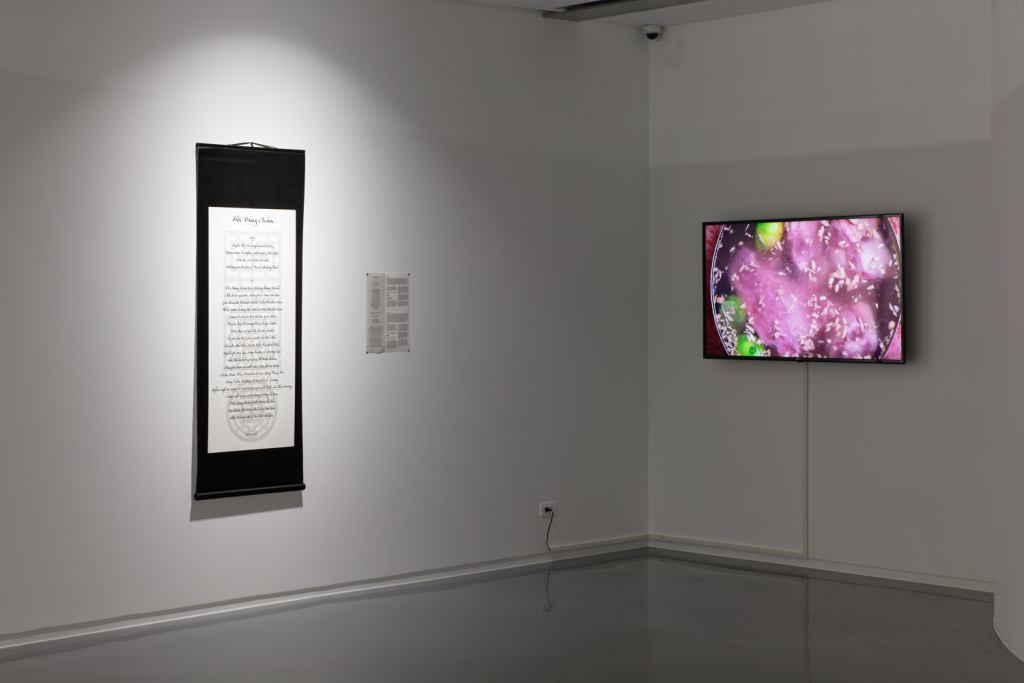 "I define the whole process of selecting and buying the bones at the market, making the broth of Phở and finally casting the residual bones as my durational performance piece."
-Ly Hoang Ly
As we see in the video Perpetual Ephemeral: A study of Phở, the cow bones were stewed for 12 hours to make the broth for Phở. After that they were washed and treated carefully with bleach. After the bones dried, Ly Hoàng Ly worked with them through the process of casting. They then were dipped in the colloidal slurry with many steps to build a hard layer around the bones. They were burned in a ceramic shell kiln at approximately 980 Celsius degree for one day, including the cooling process. After that, hot bronze was poured into the ceramic shells and together with the ash remnants of the bones and ceramic shells, these sculptures were formed as hybrid substances. This process was conducted at SAIC World Famous Foundry in Chicago, USA, in 2013 through the metal casting and foundry process.
The photographs represent captures of the sculptures "Ash". Each photograph opens a unique universe where concepts such as portrait and image and that of space, time, and energy appear vividly. The sculptures' expansion, transformation, entanglement occur in small objects that fit the palms of a human hand thus exposing notions of fragility, solidarity, and harmony.
Explore Ly's work from the video 'Artist in Focus'
Mark Salvatus
The installation 'Weakest Links' is made of fine chains linked together by keyrings, "something portable" that we all at some point carry along, to vaguely delineate the perimeter of an imagined geographical map. Further to that, the public is invited to tug and pull the chains and by so doing alter the morphology of the map which, for its pliable nature, easily arranges into new configurations. Playing with the idea of nationality, and at the same time flirting with the notion of belonging. Weakest Links speaks of the movement of people and the migration of culture and language.
See the video 'Artist in Focus' to explore more of his work.
Latest Articles