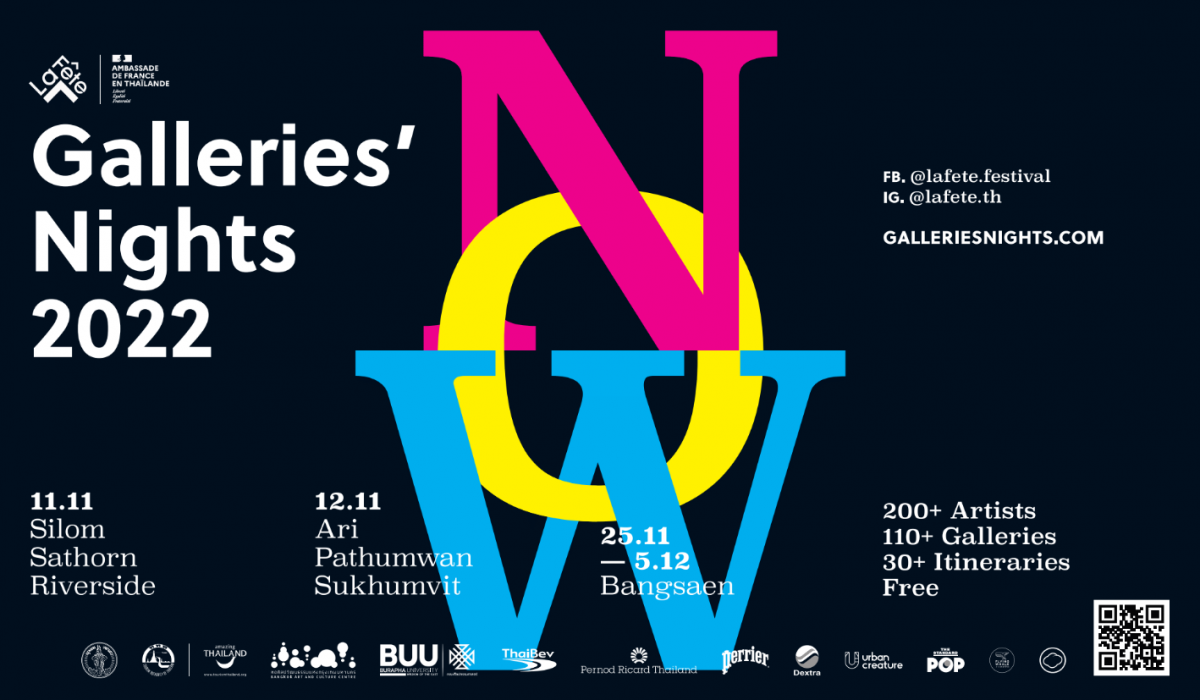 Galleries' Night is BACK in 2022! with the theme: NOW.
This year, the Embassy of France in Thailand aims to bring people back to the galleries and artworks between 11-12 Nov in BKK and 25 Nov – 5 Dec in Bangsaen.
After 2 years of COVID-19 and many health crises, the war in Ukraine, the political. uncertainties, the environmental challenges, the future of the planet, what kind of world do we want? Which values do we want to promote? What are our prospects for the future? We all have experimented the fragility of life. Now, what are the challenges ? What has to be invented? Which solutions can be found? We are not expecting the artists to answer, but to think the present, the NOW.
About Galleries' Night
Launched in 2013, Galleries' Nights is nowadays a highlight of the cultural season in Bangkok bringing together, year after year, a larger audience of onlookers and art lovers.The inspiration of this event comes from "Nuit Blanche Paris" (Sleepless Night), an event where museum and art spaces stay open all-night long, which has now achieved worldwide reknown. Galleries' Nights turns the City of Angels into a festive and friendly open-museum. It used to invite a large audience to discover more than 70 galleries for two nights. But since 2021, we also have a sister event: Galleries' Nights Bangsaen! Join us for this new celebration of art in cafés during two extra weeks.
JWD Art Space continues to be part of Galleries' Night for the third year in a row. This year, it will be open for art lovers to visit on November 12, 2022 until 11 PM, with a tuk-tuk to take the art lover from various points. which you can follow and update the route and more details via  https://www.facebook.com/lafete.festival/
Latest News
Welcome to an "Art in the Blog"
Show All